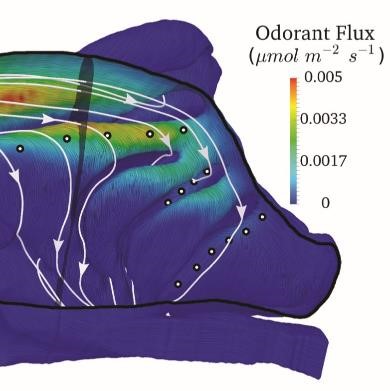 What need could there be for either nearest-neighbor relationships or nonuniform distributions of receptor cells in the olfactory epithelium (OE)? In this podcast, Editor-in-Chief Bill Yates (University of Pittsburgh) talks with Professor David Coppola (Randolph-Macon College, Ashland, Virginia) about a recent article which provides a novel test of the longstanding "sorption hypothesis" and related "fovea hypothesis", which posit that physical properties of odors, such as volatility and water solubility, determine a spatial pattern of stimulation across the OE that could aid odor discrimination. Listen to learn about the empirical and computational methods used to test these hypotheses, and the results which partially undermined the hypotheses!
Tests of the sorption and olfactory "fovea" hypotheses in the mouse
David M. Coppola, Brittaney E. Ritchie, and Brent A. Craven
Journal of Neurophysiology, published online November 7, 2017. DOI: 10.1152/jn.00455.2017.